A beginners guide to wood burning stoves
Monday, 7 January 2019 | Admin
Nobody really knows the number of households that have a wood burning stove, although in 2015 the government estimated that around 7.5% homes used wood burners. As the region's leading fire installers we can say that wood burners are hugely popular here in Greater Manchester and we install several stoves each week into homes of all sizes and types.
We've produced this beginners guide to wood burning stoves for homeowners in Greater Manchester. Let's get one thing out of the way – wood burning stoves are not going to be banned. There was some confusing publicity around stoves and pollution last year and so we want to clarify that the government is primarily concerned with the pollution caused by the fuel used on stoves and not the stoves themselves. Therefore, you should only purchase wood carrying the Ready to Burn logo.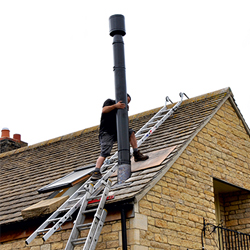 You don't need a chimney to have a wood burner fitted by the Heat Installers. For those homes without a chimney we can fit a twin wall flue pipe system. This offers modular components resulting in a fully-integrated flue between the stove and a safe place outside your home. If we are fitting a large stove with a heat output of 5kW your room may also require an air vent. Some models have a rear air connection already built in which means air can be drawn directly from outside, but our installers will advise if anything else is necessary.
Another important consideration when choosing your stove is the heat output. Manufacturers will provide this information but we always advise double checking their information. To do this divide your room in cubic metres (length x width x height) and then times by 14. Essentially, you require 1kW of heat for every 14m3 of space although this is just a rough estimate and we would also take into account the age of the property, how many windows the room has and the level of insulation.
Many people ask us to fit their new stoves in an existing fireplace recess which is of course possible. However, there can be no wood, fabric or plastic in or around the recess and the stove will also need space around the side, rear and top. There are strict safety regulations about the hearth materials and its thickness and our experts will advise you on this. If your stove is freestanding, again, it will have to be placed onto a hearth that meets building and safety regulations.
Which fuel should you burn? You can purchase stoves that are wood burners only or that are described as multi fuel. The multi fuel stoves allows you to burn wood as well as coal and various approved government fuels. However, many people prefer to burn wood on both as wood is a sustainable resource and providing you buy well-seasoned wood (this term means wood that is dried out) like wood carrying the Ready to Burn logo – it is not damaging the environment.
In terms of which stove to buy from a design perspective, well that's up to you. However, there are numerous stove manufacturers and designs available to consumers and like most things in life, the more expensive the stove the higher quality it will be in terms of design, quality, warranty and function. We are happy to guide customers to reputable retailers when it comes to purchasing their new wood burning stove.
The installation of a new stove has to meet building regulations and HETAS approval and so ideally should be installed by professionals and The Heat Installers will be able to advise you on every element of your stove buying and fitting process.