More choice of fireplaces - even if you have a Class 2 Pre-Cast flue
Tuesday, 6 November 2018 | Admin
Big, bold and beautiful
The fire and fireplace is usually the focal point of any room and as we travel across Greater Manchester fitting fireplaces and fires for customers, we have noticed a new trend for larger than usual fireplaces.
These new big, bold and beautiful fireplaces draw all eyes to the fire and offer a stunning centerpiece for any room. However, as most fireplaces 'holes' are a standard 16 x 22" customers are concerned they may have to carry out building work to get these fashionable fires in place.
Innovative design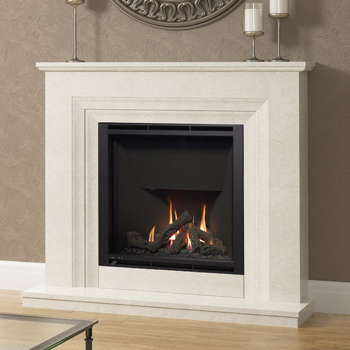 Many homes built from 1960 onwards have a pre-cast flue – which is a lot narrower than a traditional chimney and therefore obviously restricts the type of fire you can fit. Pre-cast flues are normally found in properties built after 1970 and are created using blocks within the cavity wall. This means depth will always be an issue and prevent you from installing a deep fire or a fire that is wider than the 16" pre-cast blocks.
However, a clever new innovation from British fire designer and manufacturers Elgin & Hall mean even homes with a pre-cast flue and standard chimney breast can have these fashionable larger than usual fireplaces suites installed.
Essentially, Elgin & Hall has designed marble fireplaces in one unit which are larger than a standard fire and fireplace at the front, but are cleverly tapered at the rear to allow it to be fitted to a standard chimney breast or flue. This means no additional building work for our customers.
It's a simple but very clever idea and if this is something you would like to consider for your own fireplace in Greater Manchester than just search for your nearest Elgin & Hall stockist or, heatinstallers.co.uk will be happy to source your fireplace for you. We can supply leading brand fires, fireplaces and stoves from leading manufacturers and are happy to offer advice on finding the perfect fireplace for your home!