The changing style of gas fires
Thursday, 19 September 2019 | Admin
If you're not up-to-date with gas fires you may well be amazed at the styles, realism, efficiency and performance that the modern gas fire offers. Forget kneeling down with a match and scorched eyebrows when lighting a gas fire, the latest models can be operated by a discreet lever at the top of the fire or even without leaving your favourite chair using a remote control. They are also very efficient too as the government's push on home energy efficiency has resulted in many of the older, low efficiency products now being discontinued.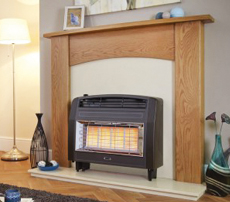 When you think of older gas fires, many picture the free-standing fires that sit on a hearth or hang on the wall. Radiant bar fires like your granny used to have. Well 'outset' gas fires are still available and are preferred by many due to their impressive heating performance and as many have controls at the top, they provide a simple way to operate for older users.
Whilst the radiant bar fires may not look as cosy as a living flame model, they do kick out the heat and it's easy to see what setting they are on buy just counting how many bars are lit. There are outset gas fires that do have a real flame over a coal or log effect fuel bed and another positive for this type of appliance is that they are easily fitted into shallow, Class 2 flues which are mainly found in more properties constructed in the last 40 years.
The 1980's saw a big change to inset 'living flame' gas fires. Initially, these fires focused more on aesthetics rather than efficiency and they used a lot of gas to recreate the dancing flames of a real coal fire. Fireplace fashions changed and then came different fuel effect options such as logs and even pebbles which were popular with those with more modern tastes when combined with cool materials such as brushed stainless steel, sparkly granite and lighter wood surrounds.
Stricter regulations came into force and manufacturers started to concentrate more on efficiency. The introduction of glass-fronted fires meant that the poisonous fumes produced during the combustion process couldn't enter into the room so it could be allowed to linger around the fuel bed longer therefore generating more heat into the room for less gas used.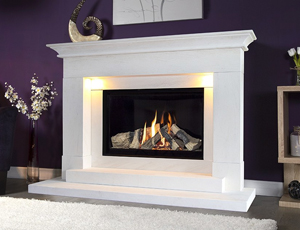 With many new properties being built with a shallow flue in the cavity of a flat wall, gas fire manufacturers started to produce fires that were slimmer than standard allowing them to be fitted a Class 2 Pre-Cast flue. For new build homes without any consideration for a gas fire, 'Powerflue' gas fires became the only option. This type of fire had a pipe attached to the back of it which went horizontally through the external wall behind. On the outside wall was a fan unit which when the fire was in use would draw the fumes horizontally through the wall. Powerflue fires required an electric source and would not work during a power-cut.
Powerflue fires have now been superseded by 'Balanced Flue' gas fires which work in the same principle as a Powerflue fire but they have a glass front so no fan is needed outside as they fumes can't go anywhere also other than being drawn naturally through the pipe to outside.
We're now at the stage where energy efficiency is the main consideration with modern gas fires. Many of the older, open-fronted fires are soon to be discontinued. Fashionable styles today include a much larger fire than the standard, 16" inset fires with the new breed of fire taking up most of the back panel area of a fireplace. Gas stoves are also very popular as they provide that character of a real woodburner with the instant on/off and controllability benefits that gas offers. Many feature thermostatic remote controls that can turn themselves down once your room has reached the desired temperature and some can be even controlled by your phone or tablet!
Whatever your style or budget, speak to the Heat Installers team to arrange your free home survey in the Greater Manchester area. We will be happy to recommend a gas fire that will transform your home and be a efficient and cost effective way to heat the room you spend the majority of you time in whilst enjoying amazing flame visuals! We can offer gas fire installation in Manchester by our experienced Gas Safe registered teams.