Try our bespoke Fireplace design service
3 Comments
Friday, 7 December 2018 |
Admin
Try our bespoke design service for fireplace chambers, hearths and beams
Custom Stone Chamber with Lighting
Heat Installers fit new fires and stoves across Greater Manchester and in our experience, there is one element of the installation that can sometimes be overlooked – and that's the fireplace chamber itself.
The fireplace chamber is the area where your fire or stove sits, and ironically, this element of your new installation is the one that can be seen most– especially when the fire is unlit. Yet, this vital element of the overall installation is often the one that most people don't even think about. Manchester homeowners are happy to decide what type of fire and heat output best suits their home, they endlessly deliberate about which hearth or surround will best suit their room – but the poor old fireplace chamber is rarely even thought about.
However, the fireplace chamber has an important part to play in the final completed look of the fire area and so it is always something we advise our homeowners to think about when we install fires and stoves across the Greater Manchester area.
Bespoke fireplace chambers
If you are going to the trouble of having a stove fitted, be that an electric or gas stove or a genuine wood burning stove, the fireplace chamber is particularly important in setting off the new appliance – as the stove features quite a lot space around it on either side. While you can of course purchase 'off the shelf' fireplace chambers, here at Heat Installers, Manchester's premium fire installation company, we have the skills and expertise to make genuine bespoke fire chambers and even hearths and beams to complement your new stove.
These elements are developed in full consultation with customers to ensure they are designed to fit the specification of the fire and, of course, your personal interior design style. Essentially, Heat Installers designers can work with a range of materials including stone, slate and brick. Brick is a popular choice for Manchester homeowners who like a rustic theme while using slate will give a more contemporary ambiance. There are a range of shades available to choose from in the materials we use and so ensuring your new stove blends in with your design style has never been easier.
The choice of fireplace chamber also has a practical purpose too. It will protect your fireplace and help with radiating heat around the room – a stone or tiled chamber could radiate heat around the room, even after the fire has gone out.
Bespoke hearths and beams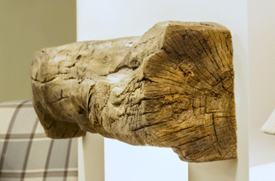 Rustic Fireplace Beam
Everyone loves a fireplace hearth – the perfect place to sit your favourite knick knacs, candles or other seasonal dressings. As well as fitting fireplaces in Manchester homes, Heat Installers can also make hearths and beams to order based on your own personal specifications. We use extensive materials, some of which are quite unusual and include granite, stone, reclaimed York stone and even glass which can be made to fit your room. This is particularly useful if you have an unusual shaped room or would like a corner hearth or beam made to order.
We can also build in LED lighting which can shine down, up or across your lovely new stove and bring your fireplace area to life all year round – whether the stove is on or off, your new, bespoke fireplace will be the focus of the room.
While we do offer similar 'off the shelf' solutions to our competitors, the discerning home owner in Manchester should talk to us about our unique fireplace chamber, beam or hearth design service to give their home the wow factor.