Double Sided Wood Burning Stoves
Monday, 3 September 2018 | Admin
Double sided fires are perfect for open plan living.
Open plan living is increasingly popular. Whether that's having your living room, kitchen and dining room as one big space, or having a kitchen and family room or having a living room and family room in one.
One of the benefits of open plan living is that it makes any space seem much bigger – the walls are down and your living areas flow seamlessly into one another which makes communal living much easier.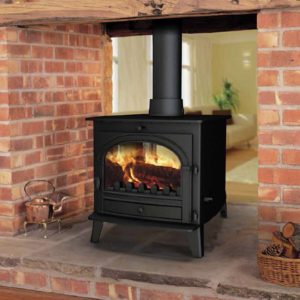 Parkray Consort Double Sided Stove
However, sometimes an open plan space can lack a focal point and the big spacious areas can also be difficult to heat. Enter the double-sided fire – the perfect solution which does not spoil the open plan feel but will give a focal point and of course, much needed warmth.
A double-sided fire in essentially one that is installed between two rooms or spaces making the fire easily seen and accessible from two sides.
The fire can also be set in two contrasting walls on either side of your space – so for example on a kitchen side you could have brick, while on the contrasting living room side you could opt for wallpaper.
Heat Installers have fitted numerous double sided appliances from brands including Chesneys, Parkray, Ekol and Stovax. These gorgeous wood burners feature large glass windows with opening doors at either side and are designed to be fitted into a chimney breast in between two adjoining rooms or as a central feature within large open-plan spaces.
Traditionalists will like the Hunter Herald 8 double sided woodburner. This belts out 360° heat and is big enough to heat large spaces with a central chimney. You will enjoy the rural charm of this stove created by canopies that give a 'country' feel to the stove and options such as single or double doors and brassware door furniture.
Another benefit for the double-sided fireplace is heat efficiency. We are on guilty of turning on the central heating when we actually are only using one room and all the heat in other rooms is wasted. With a double-sided fireplace, you can heat at least two 'room' or even an entire ground floor without having to touch the central heating – which should save you money in the long run.
If you love open plan living and are considering a double-sided fireplace talk to our expert staff about how a fireplace can enhance your space.